Our website
Sexy-chic seduction lingerie
Welcome to the Délia Bodi online store.
You will discover a trendy, chic and glamorous selection of the best of women's lingerie among the most beautiful designer brands such as Ambra, Ritratti, Lisanza, Vison Royale or Marjolaine.
A lifelong lover of fine lingerie, Délia Bodi gives pride of place to Italian brands. On this site we seek to reproduce the boutique experience, and provide our customers with an exclusive selection of the offer of the most beautiful European designer brands.
Thank you for your visit.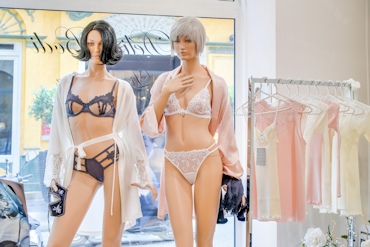 Our shop
A passion
Délia Bodi is a multibrand lingerie boutique, opened in 2009, specializing in luxury, located in the Madeleine district in Paris 8th district.
In the powdery, refined and intimate atmosphere of the boutique, the daring and refined sets compete in beauty with the babydolls, bathrobes, bodysuits, and an original range of wool & silk.
Whether it's a sexy bra, thong, pure silk nightie, or luxury lingerie set, our customers are sure to find the perfect outfit.
Looking forward to welcoming you !
Lingerie Délia Bodi, 3 rue Chauveau-Lagarde, 75008 Paris +33 1 44 56 95 92